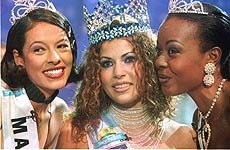 I was 18 years old when I became Miss Israel in March of 1998, and was sent to represent my country in the Miss World Competition. A month and a half before the contest, while I was modeling in Italy, I was brutally raped by an Israeli travel agent, and in November of that year, the world saw me cry onstage in the Seychelles Islands when I was crowned Miss World.
Immediately after the rape I called my mother, and with her support I went to the police station and the hospital in Rome to report the crime and undergo a medical exam. When I returned to Israel, we were asked to keep the matter quiet in order not to deter the rapist from coming to Israel where Israeli police, in co-operation with Italian authorities, were waiting to apprehend him.
Those weeks of silence were particularly hard on me in view of the upcoming Miss World pageant. I was scared to leave home and did not want to go. But with my mother's encouragement, I did agree to represent my country. After being crowned Miss World, the story of my rape was uncovered by the Italian press. The next day the affair was reported in the international media, and overnight I became the face of rape victims around the world.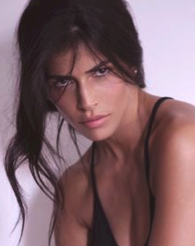 Fortunately, the rapist failed to read the headlines and was arrested at the Tel-Aviv airport when he tried to return to Israel. While I was trying to recover from the trauma of the rape, I faced a trial that generated extensive press coverage. During the trial, I had to relive the events, and face the rapist's denials. I advised other women not to be afraid of reporting their rapes, and to seek punishment for the perpetrators. As a result, there was an increase in the rate of rape victims reporting the crime in Israel.
After the trial ended in October of 1999 with the conviction and imprisonment of the rapist, I stopped talking about the rape publicly. I had to figure out how to heal. I found it helpful to study drama and to I sought rehabilitation through introspection and therapy.
Upon finishing my drama studies, I started working in theater in Tel Aviv. I was cast in "The Blue Room", in the role played by Nicole Kidman in London and New York.
In 2006, I got married to an NBA player Sarunas Jasikevius, and moved to Los Angeles. The marriage didn't work out and we divorced after a year. I returned to Israel and enrolled in law school. I hope to use my law degree to represent women who are victims of sexual violence. In 2008 I launched this website and started speaking out about rape. In August of 2010, I got married to Oron Kalfon, who is my partner, my friend and my true love. With his support and the support of my family, I have been documenting my journey and in the film I tell my own story, without shame, as I reach out to other women around the world, encouraging them to tell theirs.
– Linor